Navratan Khichdi (For 6 people)
Last Updated:

November 4,2017

Orignally Published:

June 1,2014
A nutritious khichdi that is filling and provides excellent quality protein.
Ingredients
225g rice
50g soya nuggets
55g arhar (toor) dal
55g chana dal
55g moong dal
55g masoor dal
100g potatoes
100g carrot
100g cabbage
50g French beans
100g tomatoes
250g onion
1 ½ tsp ginger-garlic paste
½ tsp jeera seeds  
1 inch cinnamon
10 cloves
10 peppercorns
5 green chillies
1 tsp turmeric powder
1 tsp dhania-jeera powder
½ cup coconut milk
3 tbsp ghee
3 tbsp refined oil
Salt to taste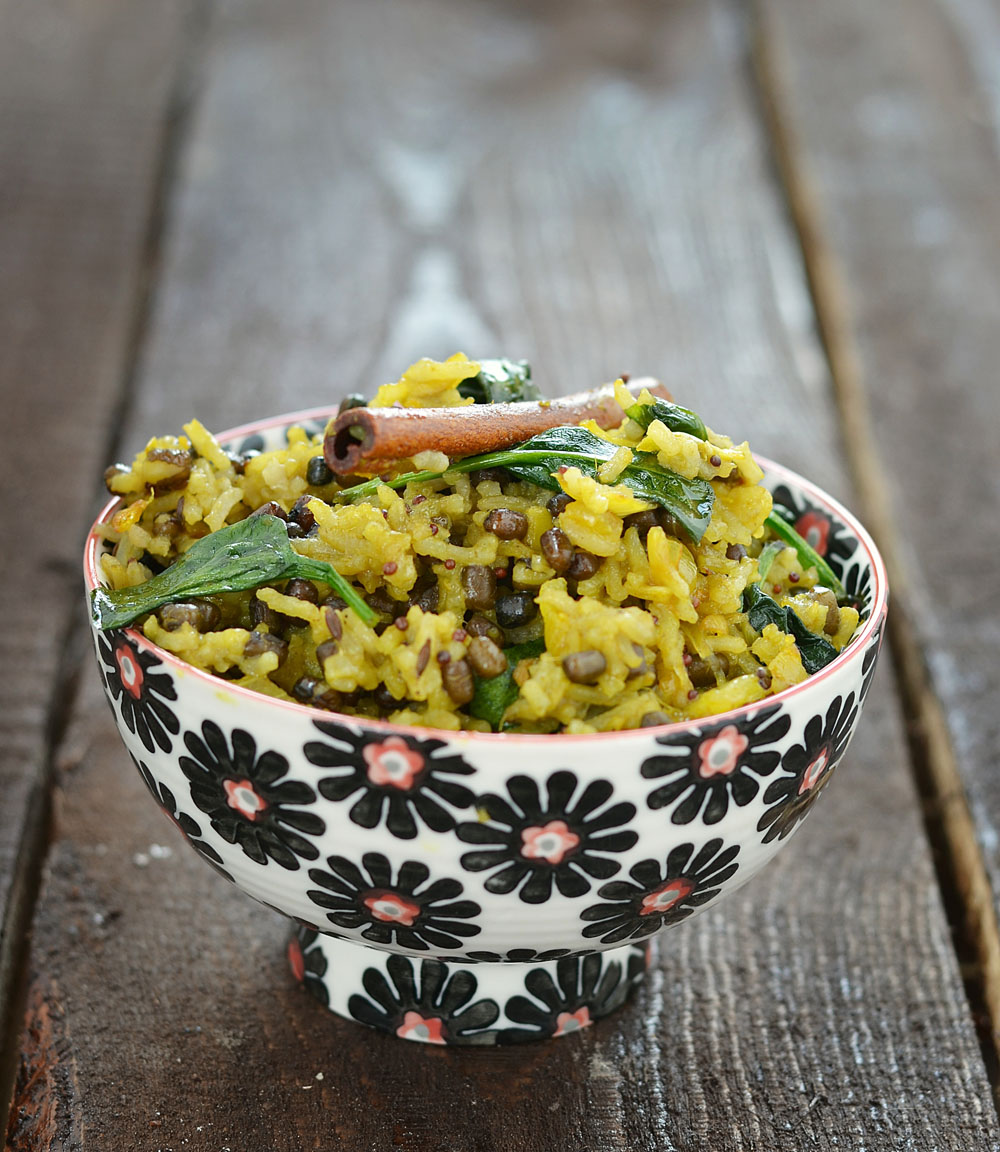 Method:
1. Soak the arhar, chana, moong and masoor dals separately in just enough water for 6-8 hours.
2. Wash and soak the rice in minimal water for 2 hours.
3. Wash the soya nuggets in water a couple of times and soak in some hot water for an hour.
4. Slice the onions and chop the tomatoes. Wash and cut the rest of the vegetables into thin strips.
5. Crush the cloves, cinnamon and peppercorns coarsely.
6. Chop the green chillies and coriander leaves.
7. Boil the chana and arhar dals together (they take about the same time to cook) till almost done, using the water in which they were soaked. Similarly, boil the moong and masoor dals together in the water they were soaked in. Take off the heat.
8. In a deep pan, heat oil. Add the sliced vegetables and fry lightly. Remove the vegetables from the oil. Next, fry the sliced onions. Remove from oil when done.
9. To the hot oil in the pan, add 2 tbsp ghee. Add the jeera seeds, garam masala, green chillies, ginger-garlic paste and the soya nuggets (you may squeeze the water out before adding to the masala), and stir for a minute.
10. Blend the dhania, jeera, turmeric powders and salt in a little water. Add this mixture to the masala. Add the rice, dals and coconut milk and enough hot water (the total liquid should be double the volume of rice being used). When the rice is half-done, add the fried vegetables and allow to cook till done and the water has almost dried out.
11. Pour the remaining ghee over the khichdi. Serve hot with kadhi (optional).
Nutrient content per portion (2 1/2 bowls since this is a one-meal dish)
Calories – 390 kcal, Carbohydrate – 64g, Protein – 26g,  Fat – 15g, Calcium – 105mg, Vitamin A – 180 IU (Vitamin A content may increase if the refined oil being used is fortified with the vitamin)
Note: The water used for soaking dals looks a bit murky due to the water-soluble nutrients that get dissolved in it. You should use the water while cooking.