Last Updated:

November 27,2017

Original Published:

September 12,2014
Nadishodhan  (Alternate Nostril breathing)
Meaning
Nadi refers to invisible energy tubes in the body. Shodhan means to purify. This Pranayama purifies the network of the psyche, according to Yogic philosophy.
Benefits of Nadishodhan Pranayama
1. It is a very effective pranayama (breathing technique) for managing hypertension, anxiety, stress, high blood pressure, heart disease, dementia, insomnia, etc.
2. It calms the mind / thoughts and brings tranquillity.
3. Cleans the blockages in nostrils for better breath flow. Also beneficial for bronchial asthma, nasal allergies, chronic cold, bronchitis and many other respiratory disorders.
4. Brings balance between the breath and the hemispheres of the brain. The right nostril influences the left of the brain and vice versa. With Nadishodhan pranayam, both the hemispheres are brought into equilibrium.
5. It purifies and balances Prana (vital energy) in body.
6. The body is nourished by ample supply of oxygen.
7. Nadishodhan Pranayama brings Samatva (equanimity), which is the key to emotional and spiritual growth.
Contraindications
In case of a heavy nasal cold or secretion of excess mucus, this asana may be difficult to practice.
The Pranayama
1. Sit in a comfortable posture, preferably with crossed legs that ensure that the back, neck and head are straight and aligned.
2. Place both hands on the respective knees, the tips of index finger and thumb touching each other, palms of the hands facing outward, remaining fingers held straight pointing downward in the gesture of Chin Mudra.
3. Spend a minute in silence observing the flow of breath.
4. Adopt Nasika Mudra with your right palm (fold index and middle fingers, keeping other fingers straight as shown in Picture No.2) .
5. The following movements are to be done in a continuous motion without any breaks:
●    Close the right nostril with the thumb, inhale through left nostril. Hold the breath for a moment, close the left nostril with ring finger, open the right nostril and exhale. 
●    Next, keep the left nostril closed with the ring finger, inhale through right nostril, hold the breath for a moment, close the right nostril with the thumb, open the left nostril and exhale. 
●    This completes one full round.                            
This complete cycle could be repeated seven times initially and increased to upto 21 cycles as your proficiency increases.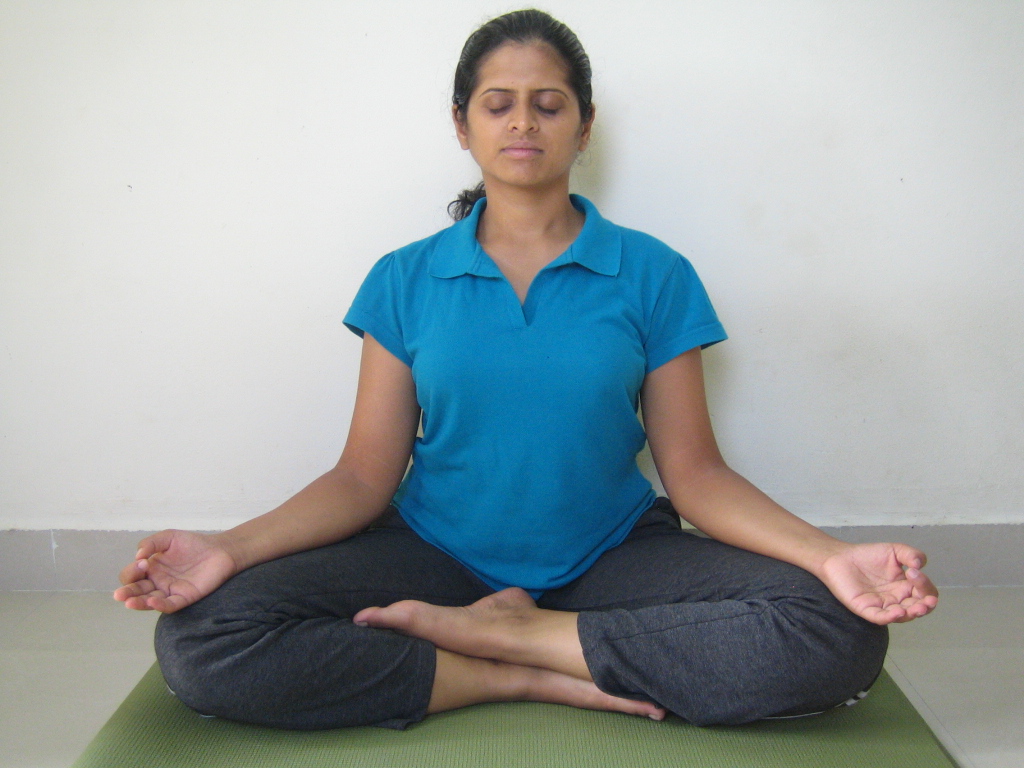 Step1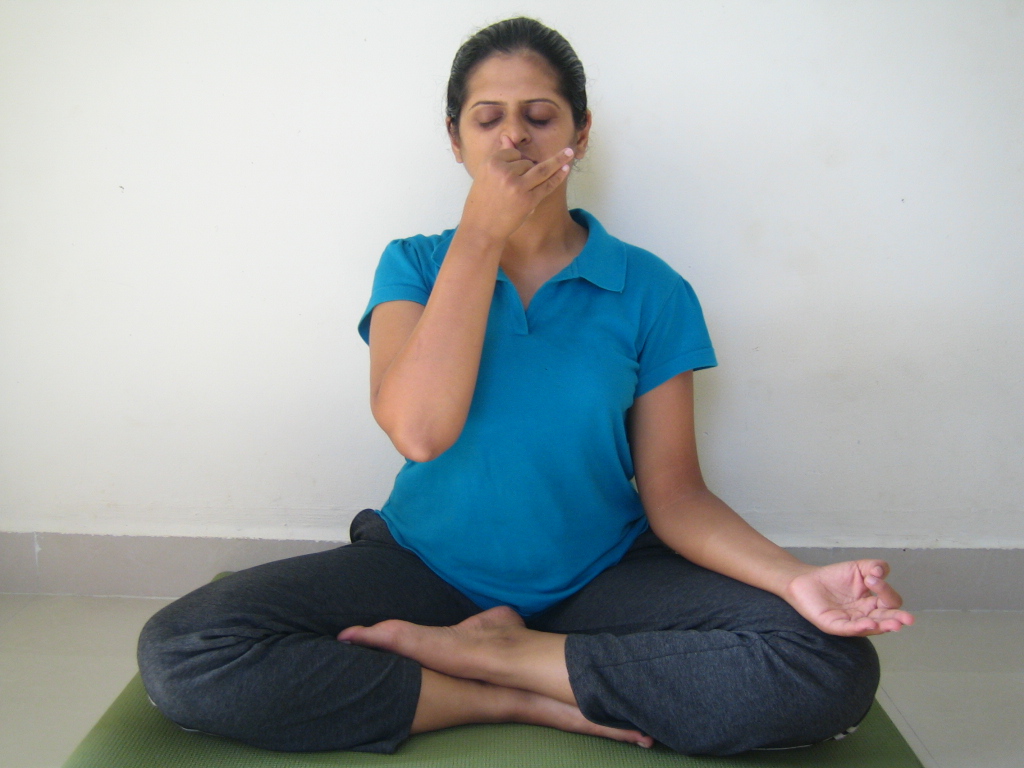 Step2                                        


                                                 Step3
Contemplation
Take the following points into consideration during practice of this Pranayama:
1. Ensure your breathing is not forced or restricted. Let the breath flow naturally.
2. Your attention will wander during the practice initially but try to maintain awareness of each inhalation and exhalation.
3. Become aware of the gradual positive effect of alternate nostril breathing on your general health over time.
- Contributed by Divyayog www.divyayog.in
Yoga practice is a physical activity; kindly consult your physician before you take it up. You are solely responsible for your health while performing the practice.